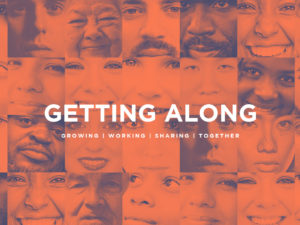 In our Wednesday evening Bible study, we are nearing the end of the book of Romans. Paul covers a lot of ideas in his letter, but a frequent topic is the need for Christians coming from different backgrounds to get along. In chapter 14 he addresses two major issues that are causing disagreements within the church at Rome: food and special days. The Christians that come from a Jewish background had a stricter view on these things, and those from a non-Jewish background were more free in their view. A big part of their struggle was the demand from one group that the other group do things their way.
Although our issues are different our struggle can be the same. We want people to see things the way we see them. We have a hard time listening because we are too busy trying to convince. All of Romans 14 is valuable to help us learn how to work through conflict, but I believe we find the key in verse 19: "Let us therefore make every effort to do what leads to peace and to mutual edification." Make every effort. We are not to make every effort to convince. We are not to make every effort to destroy the argument of a brother or sister. We are to make every effort to make peace and to improve. In his book about Romans,
How to Be a Christian Without Being Religious, Fritz Ridenour describes three ways to put this into action.
Be genuine.
In other words, be honest and open with other people. Appropriateness and sensitivity are vital.
Be acceptant.
Respect and like people for who they are rather than trying to make them over to suit your values.
Be understanding.
Have empathy by putting yourself in someone else's shoes. Doing these things can lead us to the kind of mutual respect that a good family needs. Learning to get along is just another part of GROWING, WORKING, SHARING…TOGETHER.
Brian