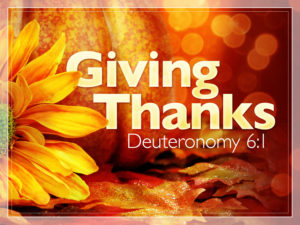 In our nation, we set aside time this week to consider the things we are thankful for. I hope we spend a lot more than these few days each year doing that. God has done so much in our lives that we should be thankful for Him daily.
In his letter to the Colossian church, Paul spends a lot of time emphasizing thankfulness. Each chapter of the book contains each one statement of thanks written by Paul while he was imprisoned. That should serve as a reminder to each of us that we have plenty to be thankful for even when it seems things are not going well for us. What did this prisoner for the Lord say about being thankful?
He is thankful because the church was doing what it should be doing: showing faith and love. "We always thank God, the Father of our Lord Jesus Christ, when we pray for you, because we have heard of your faith in Christ Jesus and of the love you have for all God's people." (Colossians 1:3-4)
He wants them to be thankful too, and his thankfulness is contagious. "So then, just as you received Christ Jesus as Lord, continue to live your lives in him, rooted and built up in him, strengthened in the faith as you were taught, and overflowing with thankfulness." (Colossians 2:6-7)
Being thankful helps to make peace, and peace is something to be thankful for. It's a wonderful cycle. "Let the peace of Christ rule in your hearts, since as members of one body you were called to peace. And be thankful." (Colossians 3:15)
If we are not thankful by nature, it is something we can improve through action and habit. " Devote yourselves to prayer, being watchful and thankful." (Colossians 4:2)
Let's all be more thankful this weekend and all year long.
Brian