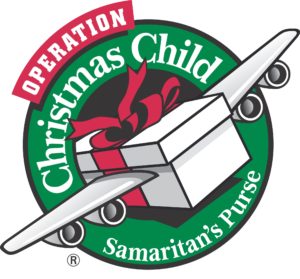 Operation Christmas Child 2018
This year our congregation provided 150 Shoe Boxes for Girls and Boys, ages 10-14. We'll be continuing this all-church program in 2018. We'll start collecting again in August so throughout the upcoming months keep an eye out for great deals on Soccer Balls, Jump Ropes, Plain T-Shirts, Washcloths, & Boxes of Colored Pencils.
What is Operation Christmas Child ?
Since 1993, Operation Christmas Child has delivered gift-filled shoe boxes to over 124 million children affected by war, poverty, natural disasters, and other crises throughout the world. These boxes provide an opportunity for trained volunteers to share the gospel all over the world. This year the entire church participated in packing 150 boxes and we're hoping to do the same in 2018.
When is it happening?
From July through October, we'll be collecting specific items for Girls & Boys, ages 10-14. Assembly Day will be a Sunday, at the end of October, 2018, right after church. We'll drop donated items off in the collection bin in the church lobby before that date. Even though it's "centered" around Christmas, items are collected early to ensure they make it to the distribution center in early November.

What will we be collecting next year?
Soccer Balls (deflated), Small Flashlights with AA batteries, Extra AA Batteries, Small Balls, Jump Ropes, Boxes of Colored Pencils, Pencil Sharpeners, Small Blank Notepads (5×8 or smaller), Toothbrushes, Toothbrush Holders, Washcloths, Bar Soap, Soap Holders, Combs, Hair Brushes, Chapstick (no liquid gloss), Boys & Girls Shirts, size 10-14 or L (no writing or symbols), Socks (Boys 3-9, Girls 9-11), Cost of Shipping $9/box.
How will our church be involved?
You can get involved in three ways: SHOP, DONATE, & PACK
We'll be posting the specific list of items to be included in the shoe boxes in the bulletin and on our Facebook page.

SHOP:
Buy enough for a box or buy a bunch of one item.
DONATE:
Don't want to shop? Donate and we'll shop for you. An entire shoe box costs around $60.
(Write your check to Eugene Church of Christ with Operation Christmas Child in the memo line.)
PACK:
Sunday, October TBD, 11:30-12:30 at the Eugene Church of Christ at 2424 Norkenzie Rd.
Join us for a sandwich potluck and help assemble the boxes.
steph@eugenechurchofchrist.org
.