Join Us!
Meeting Times:
Sunday Morning: 9:30am — classes for all ages 10:30am — Worship
Sunday Evening:
6:00pm
— Life Groups. There are small groups meeting at the building (use back door under stairs) and at two additional locations. Call the office for details.

Tuesday:
Ladies Bible Study 10:30am
(use back door under stairs)
Wednesday Evening

:

Bible Study 6:00pm

(use back door under stairs)
Parents can bring their toddlers and preschoolers each Friday from 9:30am to 11:00am to play together in the gym. Parent supervised.
American Sign Language ASL interpreting available. For more information contact: amanda@eugenechurchofchrist.org
Office Hours:
Mon, Tues, Thurs. – 9am to 3pm.
Church Address:
Telephone:
Email:
office@eugenechurchofchrist.org
Directions
Directions to the Eugene Church of Christ:
From I-5 take the Beltline West exit (195A northbound and 195B southbound).
The building is visible from Beltline but there is no off-ramp at Norkenzie Road.
Exit Beltline Hwy either on Coburg Road or North Delta Hwy.
From Coburg Road take Crescent Avenue to Norkenzie Road.
From Delta Hwy take Green Acres Road to Norkenzie Road.
Our facilities are located at 2424 Norkenzie Road. Call 541-687-9351.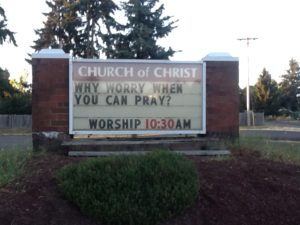 We hope to see you at one of our regular services: Sunday morning, Sunday night (evening), mid-week service — Wednesday night (evening).